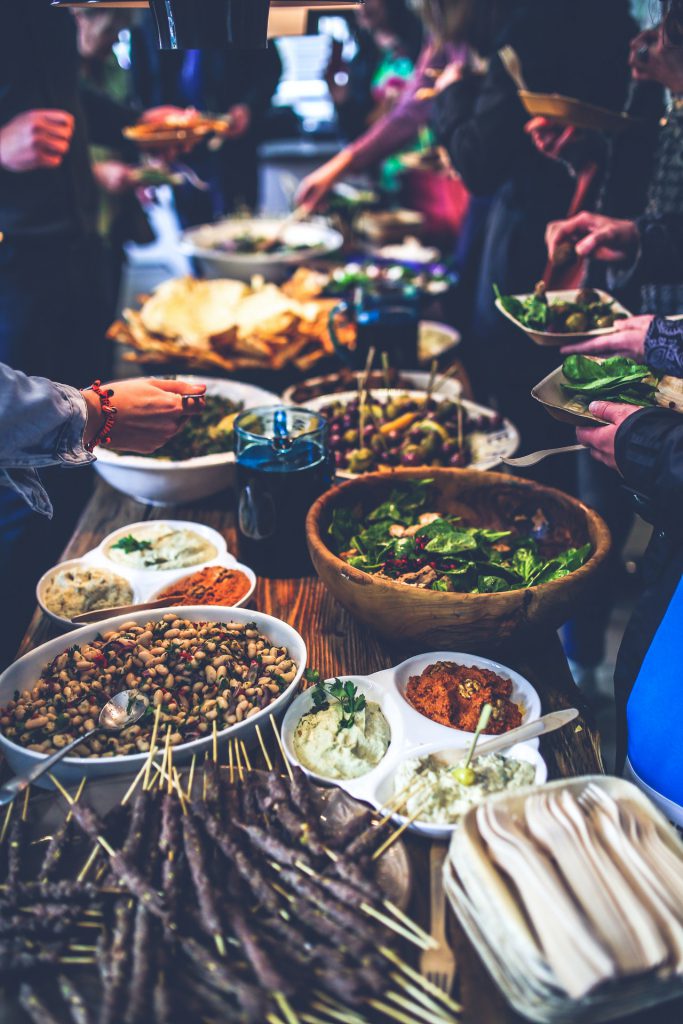 Als men iets feestelijks wilt organiseren, wordt er al gauw nagedacht over het eten. Eten en gezelligheid lijken altijd hand in hand te gaan. Je kunt geen feestje geven zonder de nodige hapjes en drankjes op tafel te zetten. Ben jij van plan om binnenkort een ware feestmaaltijd te organiseren? Maar heb je nog geen idee hoe je dit aan moet pakken? Lees dan snel verder.
Door de coronamaatregelen was het lange tijd niet mogelijk om met vrienden of familie samen te komen. Nu de regels langzaam maar zeker versoepeld worden, krijgen we eindelijk de mogelijkheid om weer samen te komen met de mensen die ons dierbaar zijn. Het is dan ook een leuk idee om een groot etentje in eigen huis te organiseren. Maar waar denk je aan? Een simpele maaltijd, een makkelijke gezonde voor 2 personen, is eenvoudig te bereiden. Maar wat als je voor een grote groep mensen moet kopen? Is je keuken hier wel op ingericht? En hoe zit het met het aantal zitplaatsen in de eetkamer? In dit artikel geven we enkele tips voor een goede voorbereiding.
Creëer voldoende ruimte in de koelkast
Onderschat zeker niet hoeveel werk koken voor een grote groep mensen is. Daarnaast nemen al die etenswaren veel ruimte in beslag. Probeer daarom in de dagen voorafgaand aan het etentje alvast voldoende ruimte in de koelkast te creëren. Ruim daarnaast ook het werkblad van je keuken zo goed mogelijk op. Je wil immers alle ruimte hebben wanneer je gaat koken.
Blijf te allen tijde realistisch: is het haalbaar om voor een hele grote groep mensen te koken? Zeker wanneer je slechts een klein keukentje met drie gaspitten hebt is dit bijna geen doen. Hoe goed je kookkunsten ook mogen zijn. Bedenk daarom goed of zelf koken echt noodzakelijk is. Het gaat immers om de gezelligheid, samen met de mensen die belangrijk voor je zijn. Dan wil je ook niet de hele avond in de keuken staan. Eten online bestellen is dan ook een prima alternatief. Begin de avond met, 'wat eten we vanavond via butlon?,' en laat mensen zelf een keuze maken. Zo weet je in elk geval zeker dat alles in de smaak valt.
Uitschuifbare eettafel
Ontvang je regelmatig veel gasten tijdens het eten? En vind je het juist heerlijk om voor grote groepen te koken? Dan is het verstandig om je eettafel hier op aan te passen. Het lijkt misschien een beetje vreemd om een geheel nieuwe eettafel voor een etentje aan te schaffen, maar hier heb je heel wat jaren profijt van. Zeker wanneer je regelmatig eters over de vloer hebt is dit een slimme keuze.
Vind je het zonde om de ruimte in de eetkamer volledig in beslag te laten nemen met een grote eettafel? Kies dan voor een uitschuifbare tafel. Ingeschoven is dit een standaard tafel met plek voor circa vier tot zes mensen. Uitgeschoven kan je echter minimaal het dubbele aantal een zitplaatsje geven. Zo krijgt iedere gezamenlijke maaltijd een waar restaurantgevoel. En dat gewoon in eigen huis!
Geef iedereen een taak
Is het voor jou onmogelijk om een menu voor een groot aantal mensen te bereiden? Geef dan een feestje op z'n Amerikaans en laat iedereen wat meebrengen. Zorg ervoor dat de ene gedeelte van de groep bijvoorbeeld verantwoordelijk is voor het voorgerecht en de ander voor het dessert. Zo is het enkel nog jouw taak om een lekker hoofdgerecht te bedenken. Zo bespaar je jezelf een heleboel extra stress én ruimte in de keuken.
Geen zin in een enorme voorbereiding en takenpakket? Met eten bestellen Amsterdam heb je binnen mum van tijd de lekkerste gerechten op tafel staan. Vervang de plastic bakjes voor sierlijke schalen en je geniet van een heerlijke en luxe maaltijd!